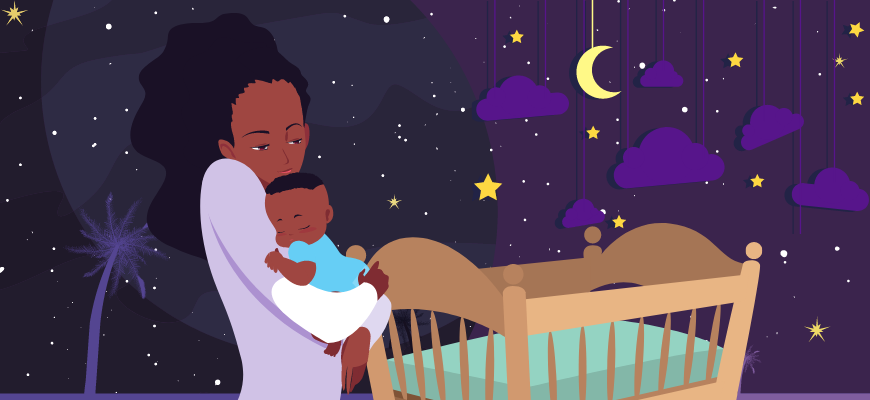 09 Apr
Villa Bimbi uses various sleeping methods that are tailored to the developmental age of your little one. All our methods are based on a gentle parenting vision. This means that we never let the little ones cry it out, but look at the reason behind the behavior
The method that Villa Bimbi recommends for babies between 0 and 8 months is the Shush Pat method.
The shush pat method can be seen as a follow-up to Harvey Karp's 5S method. This can be found in our basis for the perfect sleeping environment (Where does my baby sleep best). Young babies have to get used to the environment outside the womb. For that reason it is very helpful to organize their environment in such a way that it gives them the same safe and sound feeling as they experienced in the womb. By applying the Shush Pat method, your little one falls asleep easily and relaxed without creating negative sleep associations.
Do you always rock your little one to sleep?
It makes sense that your little one falls asleep when he is rocked back and forth. This is the same feeling as what he experienced in the womb when mother was moving around during the day. However, to teach your little one to fall asleep independently in his own bed, rocking is very difficult. As soon as you stop rocking and you try to put your baby to bed, there is a very high chance that he will wake up and you can start all over again. The Shush Pat method gives you the opportunity to offer your little one the same experience as rocking, but with this method you can make the transition to the bed more easily. This so that he can learn to fall asleep independently in his own bed.
The 5 steps of the Shush Pat Method
Step 1 – sideway

Hold your baby on his side in your arms. Just as Harvey Karp advises. Make sure you always support the head well. Always place a baby who suffers from Reflux on his left side. Preferably, make sure your little one is swaddled or in his sleeping bag as soon as you start using this method. Do you want to know how to swaddle your little one? Read here: What is swaddling and how do you do it.

Step 2 – patting

Put your hand on the bottom of your little one and make an upwards 'pat' movement. You will see your baby's head move up and down slightly during the "pat" movement. This gives the baby the same feeling as rocking him to sleep, only you can continue to use this method while he is in his crib.

Step 3 – shush

If your little one is swaddled and he is lying on his stomach or side in your arms, make a constant "shh" sound and make sure the White Noise machine is on. Your baby will recognize this sound from when he was still in the womb, so he will quickly calm down. NOTE: The White Noise sound should be as loud as the sound of a vacuum cleaner. In the womb he heard a constant white noise sound of 90db (that's louder than a vacuum cleaner!). Would you like to know more about White Noise? Then read our blog: Everything about White Noise.

Step 4 – bed

As soon as you see your little one starting to relax and become tired, put him in his cot on his left side or on his back (NOTE: You only place the baby on his side if you are still supporting his back with your hand. You make sure that when you leave the room he sleeps on his back. He should NOT sleep on his side in his bed). Try to continue the pat motion during this transition. First put the baby's feet on the mattress and then the head. This to counteract the Moro-Reflex as much as possible.

Step 5; slowly stop using the shush pat

As soon as your baby is in his crib and you see him falling asleep, slow down the "pat" technique. As soon as you feel like your baby is sleeping, you can gently turn your baby onto his back. Wait a minute to see how he reacts to this. When the baby is asleep, leave the room. If he starts to cry, turn his legs to the side or put him in a "frog position" so that you can re-apply the shush pat method. It takes 20 minutes for your baby to reach deep sleep, so if you have stopped earlier than 20 to 30 minutes, your little one may wake up again. Then repeat the shush pat method for a longer time than you did before.